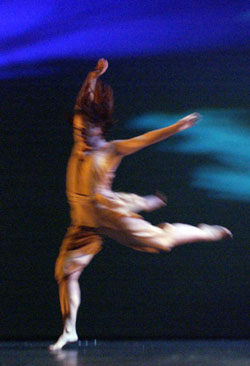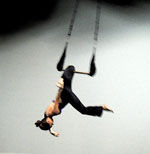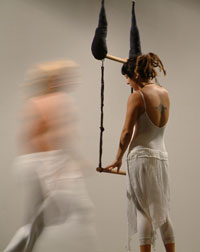 Art Gecko
Chuck Koesters
8001 N. Scenic Drive
Tucson, AZ 85743
(520) 744-2375
Fax: (520) 744-4004

e-mail
URL: http://www.otodance.org

Ability to Work With: At-Risk Students, People with Disabilities, Gifted, Senior Citizens

Language Proficiency: Spanish

Music, Dance, Aerial Forms, Mosaics, Video, Words, Maskmaking
ART GECKO is a duet performance-teaching company created in 1990 by dancer/visual artist/writer Anne Bunker and musician/composer/instrument builder Chuck Koesters. Our work focuses on the interrelationship of dance, music, visual art and words within the world of creative exploration, expression and collaboration. We offer full evening performances, lecture demonstrations, tile mural building, instrument building, maskmaking, workshops and classes to people of ALL ages. We have worked in rural communities of less than 500 people; toured throughout Mexico and Alaska; and presented residencies in many Arizona schools. By combining the use of props, masks, painting, murals and words with music and dance, a unique interdisciplinary journey is experienced by all. Musical instruments from a wide cultural base can be created, ranging from the ancient to modern electronic. ART GECKO is flexible and adventurous. We can tailor a performance/residency/workshop to fit the children's, sponsor's and faculty's needs.
References:
Kay Rukasin, Art Teacher, Borton Elementary School, (520) 749-5756
Herb Stratford, AIR Director, Tucson Arts District Partnership, (520) 624-9977
Marcia Berger, Artistic Director, Third Street Kids, (520) 622-4100
Link to the Arizona Commission on the Arts artist roster web site