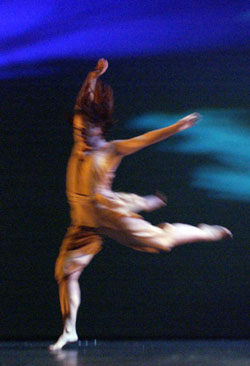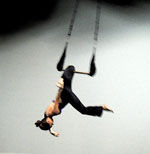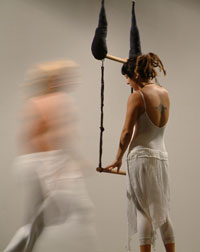 Anne F. Bunker
8001 N. Scenic Drive
Tucson, AZ 85743
(520) 624-3799, (520) 744-2375
Fax: (520) 744-4004

Ability to Work With: At-Risk Students, People with Disabilities, Gifted, Senior Citizens

Language Proficiency: Spanish

Modern Dance, Aerial/Trapeze Dance, Creative Movement
I have been dancing for as long as I can remember...
As a child, dance lived with me in the trees, in water, in play, on horses' backs and on hiking trails. Now, years later, I have dedicated myself to dance and its teachings. I have found that dance as a creative process opens up new doors to problem-solving, leads us to a greater understanding of ourselves, of others and our environment. In the past few years, I have begun a new and exciting movement journey using the single point trapeze. The use of trapeze in dance allows the mover the ability to safely add flight into their dance vocabulary. The mover is no longer earthbound. The trapeze can make a flying dancer out of those who would never before consider themselves a mover, and it's lots of fun!
References:
Marcia Berger, Artistic Director, Third Street Kids, (520) 622-4100
Dr. Joan Ashcraft, Director, Fine Arts Education, Tucson Unified School District, (520) 617-7189
Paul Fisher, Arts Specialist, (520) 882-5308
Link to the Arizona Commission on the Arts artist roster web site