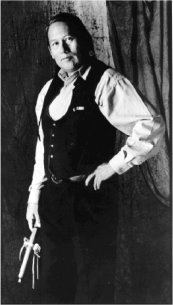 R.Carlos Nakai
---
To become the world's premier Native American flutist, R. Carlos Nakai had to rely more on research and innovation and less on his Navajo-Ute heritage. While the Diné had a strong flute-playing tradition, it was lost when they migrated from the Northwest Plains of Canada to the Southwest over five centuries ago. While Nakai may not have been "born to the flute," it was curiosity about his heritage that led him to it.
During the late 1960s while researching American Indian music and traditional instruments, the wooden flute piqued Nakai's interest, but it wasn't until 1972 that he took it up seriously. Prior to that Nakai had devoted his musical energies to classical training on the cornet and trumpet.
In his usual determination to have a thorough knowledge of the instrument, Nakai crafted his own. He later learned from a flute-making teacher that rather than the oak Nakai was using, cedar is the only wood that works well. He also discovered that when it comes to flute making, there are no standard dimensions. The finger holes and air column are based on hand and finger measurements and are never the same. As a result, each flute has a different sound and pitch which makes the tonality of the instruments random. Nakai views each flute less as a musical instrument than "as a sound sculpture - a piece of art that also creates sound."
Part of Nakai's philosophy is to ensure that the native flute does not become a "museum piece" of a bygone culture. Through his original compositions and other musical collaborations, Nakai intends to show the instrument's versatility and capabilities.
Over the past two decades, Nakai has melded his classical training with his expertise on the cedar flute to form a complex, sophisticated sound that not only reveals the flute's uniqueness, but covers the spectrum of musical genres: jazz ensembles, piano and guitar collaborations, and the concert hall. Additionally, Nakai creates new sounds for the flute using electronic technology such as synthesizers and digital delay.
A native Arizonan, Nakai's southwestern surroundings as well as his culture, heavily influence his work. He points out that "A lot of what I've been taught culturally, comes from an awareness of the environment. ...How I feel is based on my impressions of being in certain spaces at certain times. Thinking back...on personal tribal stories and the history of my culture figures into how I organize my music."
While solo flute albums such as Earth Spirit, Emergence, and Canyon Trilogy are the core of his work, Nakai is ambitious regarding joining forces with other musicians. He views collaborations as "philosophical communication between...musicians" and opportunities to explore beyond traditional musical and cultural boundaries.
Evidence of this is heard in the mid-1994 release Island of Bows, recorded with a Japanese group using acoustic and traditional Japanese instruments. This collaboration came about according to Nakai because his Japanese cohorts were "...looking for new areas of musical performance... not strictly traditionally oriented."
An on-going fraternity is Jackalope, a culturally diverse jazz ensemble with several recordings to their name, which was founded by Larry Yañez and Nakai. The group's music, self-described as "synthacousticpunkarachiNavajazz" uses electronic and modern instruments mixed with traditional, ethnic instruments allowing Nakai to again "break the rules."
Nakai's diversity is apparent through a synopsis of his work. He was a 1994 Grammy Award finalist for "Best Traditional Folk Album" with Ancestral Voices , a collaboration with guitarist and luthier William Eaton. With Arizona composer James DeMars, Nakai offers two classical albums Spirit Horses and Native Tapestry.
He has written and performed scores for film and television including selections for the National Park Service, Fox Television, the Discovery Channel, IMAX, the National Geographic Society and many commercial productions.
Since 1990, Nakai has also collaborated with pianist Peter Kater. Together they have recorded four albums, Natives, How the West Was Lost, Honorable Sky and Migrations (winner of the 1992 Indie Award).
In 1992, Nakai received the Governor of Arizona's Arts Award, the second Native American so honored.
In 1994, Nakai was conferred with an honorary doctorate by Northern Arizona University and the Arizona Board of Regents for his "exceptional achievments and contributions to humankind."
In 1995, Feather, Stone & Light, a musical trialogue with longtime collaborators William Eaton and Will Clipman, was noted as a Billboard Critic's Choice and quickly debuted on Billboard's Top New Age Albums chart, remaining there for 13 weeks.
Nakai once again broke new ground in the fall of 1996 when he debuted his first jazz album, Kokopelli's Cafe, featuring The R. Carlos Nakai Quartet.
A prolific musician and composer, he has 27 albums in commercial distribution, including 18 releases on the Canyon Records label. Just counting his Canyon titles, Nakai recently surpassed the 2,000,000 units sold worldwide.
And when he is not recording, composing or researching, 70 to 80 percent of the year is spent touring throughout the U.S., Canada, Europe and Japan performing and lecturing on Native American culture and philosophy. Nakai wouldn't have it any other way. "...We were put on the earth to experience life in its totality. And if you're not doing that, you're essentially wasting your time."
Link to Canyon Records, where you can purchase recordings on line.