The artists formerly known as Orts begin a new season with a new name and a new hall.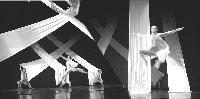 Chuck Koesters
Leaps and bounds: O-T-O Dance has a new name and a new venue.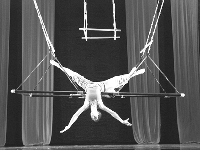 Chuck Koesters

In its 19th season, everything old is new again for O-T-O Dance, the Tucson modern dance troupe formerly known as Orts Theatre of Dance.
There's a new home, in the just-opened Stevie Eller Dance Theatre at the University of Arizona, where the O-T-O-ers will offer their season-opening concert this weekend.
There are new dancers, gleaned via Internet, videotape and audition from such far-flung points as Florida, Georgia and Oregon.
And, perhaps most puzzlingly to their loyal fans, there's a new name. Just how did it happen so that solid, one-syllable Orts elided into the airborne, hyphenated O-T-O?
"Why not?" laughs artistic director and founding member Annie Bunker. "After 19 years, I'm ready for a change."
It turns out that Bunker was never thrilled with the old name. She relates that years ago, one dark night in the desert, her car broke down, and she missed a crucial committee vote on a name. She had another title in mind, but the vote went on without her. Last year, consultants decreed that the name chosen by that long-ago committee was earthbound and in no way conveyed what Orts had become: an aerial troupe that routinely flies above ground on trapezes.
"What we do is in the air," Bunker explains. "So we went with O-T-O, the first letters of each word in the old name." The T in the new name even looks a little like a trapeze, if you think about it, with a round dancer at either end.
O-T-O is delighted to be dancing in Stevie Eller, after years at Pima College West's Proscenium Theatre.
"Oh, man, are we excited," Bunker says. "We're ready for a change. To be in a building specifically designed for dance! It's so intimate, and there's not a bad seat in the house."
Fittingly, for a new space, the six dances on the program include two premieres. "Traveler" is a three-way collaboration among choreographer Bunker, composer/videographer Chuck Koesters (Bunker's husband and the company's technical director) and a 10-year-old Native American flutist from California named Evren Ozan.
"We went to a Native American flute conference in July, in New Mexico," Bunker explains. "Every night, we listened to amazing music."
Bunker and Koesters were particularly impressed with young Evren, who struck up a friendship with their son, Wrenn, and the two families began brainstorming performance possibilities. They arranged for Evren to travel to Tucson this week to play live for the piece, which celebrates horses, the people who love them, and one particular mare named Baric, whom Bunker rode as a teen and young woman in Connecticut. Performed against a video backdrop of equine and human images, the dance for six will feature Katie Rutterer, Lindsay Compitello and Bunker, and new dancers Batyah Freedman, Nicole Stansbury and Kim Kieffer.
The other premiere is Rutterer's "Free Samples," a comical piece for six about the interaction between department store staffers and the customers who resist their wares. Music by the Kronos Quartet accompanies the work, which Rutterer based on a job she once endured in a mall. Four of the "Traveler" dancers return here, with Wendy Lowe and Sarah Parton replacing Bunker and Rutterer.
Kevin Schroder, a fine dancer who performed with the late 10th Street Danceworks after dancing in New York with the likes of Lar Lubovitch and Merce Cunningham, contributes "This Is for You." This trio dating from the late '90s evokes an old-time nightclub, Bunkers says, and Koesters re-arranged the old jazz piece "Pussycat Blues" to make an original score.
The troupe reprises the meditative "Desert Wash," Bunker's homage to the late musician Rainer Ptacek, which debuted last March. Danced by most of the company, including Charles Thompson, who will come back for the concert from his new San Diego home, it's a lovely work in white.
The dancers carry "long white fabric, and video projections of the desert fall on the cloth," Bunker says. "The video (by Koesters) is picked up on different surfaces and it becomes very sculptural."
An excerpt from the evening-length work "Rapture Rumi" will include Thompson's mesmerizing solo on a trapeze, which he performed in a 1998 concert of this work by Robert Davidson.
"We've only done it once full-length," but the three sections O-T-O chose for the excerpt work well together, Bunker says. The company, which routinely travels abroad these days, danced it to acclaim recently in Ecuador. This time around, Patti Lopez joins Bunker, Rutterer and Compitello for the work, danced to a soundscape of music by composer Steven Flynn and spoken poems by Rumi, a 12th-century mystic.
Susan Quinn's work for three women, "St. Teresa," is also on the program. To be danced by Compitello, Rutterer and Bunker, to the music of Joan Osborne, the piece explores the intense friendships of women. O-T-O has danced "St. Teresa" before, but deliberately added it to their debut concert in Stevie Eller.
"Since she's a professor at the UA (dance division), we thought it was appropriate to have a faculty piece. It gets a good response," not unlike the new theater.
"The building is so wonderful," Bunker says, again. "It's a gem."
O-T-O DANCE 19th Season Opener
Where: Stevie Eller Dance Theatre, east end of UA mall
When: 8 p.m. Friday, Nov. 14, and 2 p.m. Sunday, Nov. 16.
Cost: $12-$14 day of show; $10-$12 in advance at Bentley's, Antigone Books, Silverbell Trading or by reservation through O-T-O.
Info: 624-3799,
http://www.orts.org/
.