---
The Orts Dancers Are Gearing Up For Their Spring Concert.
By Margaret Regan
ORTS THEATRE OF Dance set to work rehearsing last week on one of those perfectly golden February days.
All the omens seemed good. The dark curtains that once blacked out the high south windows on the Historic Y stage had been taken down, the better to accommodate the Orts dancers, the space's newest tenants. The sun beamed down though the liberated windows, turning the billowing skirts of the dancers into luminescent swirls of peach and lime and blue. Seven dancers were enthusiastically at work on a new Anne Bunker piece, "Tossed Salad," which will premiere at the company's Soaring into Spring concert this weekend at the Temple of Music and Art.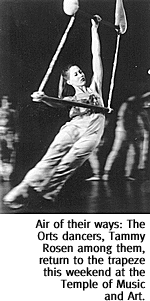 Set to jazzy music by R. Carlos Nakai, the work has all "the salad elements getting introduced to each other on the cutting board," Bunker said later. Then the veggies get chopped and, well, tossed. It was during one of these vigorous tosses that Bunker flew a little too hard onto the shoulder of dancer Charles Thompson. Next thing you knew, both salad ingredients were down.
"I jump onto his shoulder, we spin," Bunker reported after a remedial visit to the chiropractor. "We've been getting pretty quick and it started to become more daring. We both kind of tumbled down."
Bunker aggravated an old injury in her ribs, while Thompson sprained his neck and upper back. Bunker noted that all the company's trapeze work in recent years has helped strengthen their backs, and luckily both dancers were recovering nicely within a few days. The pair fully intends to be on stage this weekend, returned to all their companions in the salad bowl.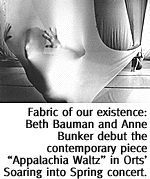 The lovely "Tossed Salad" is not the only premiere on the program. Bunker has created a new trapeze work, set to original music by her husband, Chuck Koesters, who will perform it live. Divided into three parts, the dance begins slowly, Bunker said, "focusing on a detail in the landscape." A duet between Bunker and dancer Nate Dryden breaks the quiet mood, and then progresses into the ending with "six dancers moving in and out of the frame. The horizon opens up and the landscape spreads out. There's a sense of flying outward, a sense of space."
The third new work, co-choreographed by dancer Beth Bauman and Bunker, is a duet for the two set to a contemporary piece called "Appalachia Waltz" recorded by Yo Yo Ma and others. It's centered on a stretchy swathe of beige fabric suspended from the rigging above the stage, a piece of spandex the dancers pull and stretch. It hearkens back to an early Bunker work, first performed 12 years ago, that had the Ortsers dancing inside a roll of fabric attached to the wall of a gallery on Congress Street. "Shift," a piece by Joy Kellerman which the company debuted last winter, will be reprised in a much shortened version.
After opening with a work set to Nakai music, the concert will close with "Totem," a collaboration between Bunker and Nakai that was first performed in 1990. Nakai composed the music specifically for the piece, which, Bunker said, "we built together." The dance is a favorite with the Orts members, Bunker said.
Soaring into Spring, a concert by Orts Theatre of Dance, will be performed at 8 p.m. Friday and Saturday, February 14 and 15, at the Temple of Music and Art, 330 S. Scott Ave. Advance tickets, available at Bentley's, Silverbell Trading, or by e-mailing or calling Orts, are $8 for adults, $6 for seniors and students. They're $2 more at the door. Children 15 and under are free when accompanied by an adult. Orts' e-mail address is Call 624-3799 for reservations and information.